This was the first Millennium-Trip where we were all together in Hamburg, Jan, Tobias and me. I was very happy when Jan told us that he would be with us. Maik also joned us that day and we got to know a really kind person, Saskia, who contacted me through my homepage! It was a really cool night and as usually I also met Mike Terrana again with his girlfriend Claudia and they really seemed to know me: "Hey weren't you the crazy guy who always wants to have some autographs from Mike?" Hehe, Mike, cool haircut but I prefer the other one!
No one of us ever would have believed that this trip would be our last one to the Backstage because it closed some time ago. But first see the funny pictures of our last trip!


Part IX - 'The Third Millennium-Trip'

...at our nineth trip together to Hamburg (31st December 2001/01st January 2002)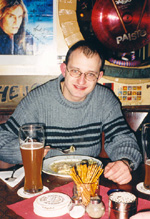 (1+2): First of all we were very hungry and had to eat one of Katrin's really delicious meals!
Sorry Katrin that I emptied all the expensive Parmesan Cheese!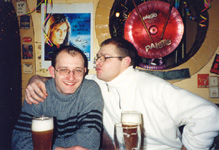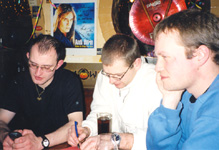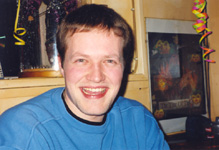 (1): Maik: "What the hell are you doing there?", (2): Tobias sending some SMS, Maik writing down how much he had to pay and Harald dreaming of something...., (3): Hehe, a photo from Hamburg where I am not too much drunken? Really rare one!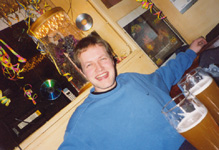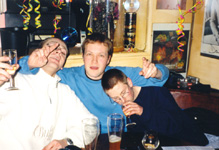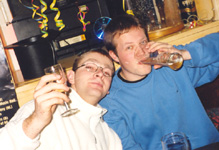 (1): Harald laughing and enjoying some beer!, (2): Three crazy guys having fun, (3): Maik and Harald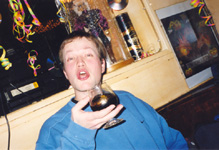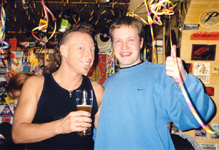 (1): Again Maik and me. Mike is a friend of Tobias I like a lot, he's a really kind person!,
(2): Harald telling something interesting and drinking Coke instead of another beer!,
(3): Wow man, "Welcome to the other side", RAGE Drummer Mike Terrana and me!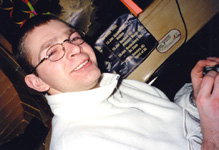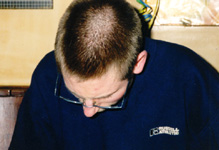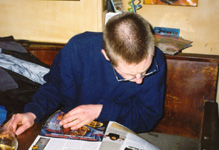 (1): Maik getting prepared for some more photos (2): Jan reading, (3): Jan still reading, must be interesting!?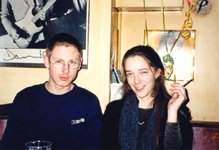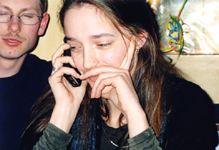 (1): Jan and Saskia, (2) Saskia on the phone
Some sad and final words...
Now comes the very sad point of this page but I wanted to write down here some things concerning the 'Backstage' and it's End! I got to know the 'Backstage' as you might know through my friends from the Gamma Ray Fanclub years ago. It became a place where I felt very good any time we had been there. I did not have the time and money to be there as many times as I wanted to but any time we where there, Katrin served us very well in her kind way and we felt that it was something special. The Backstage always had been a place where I could feel free and where I could escape from reality for the moment. For sure I will miss the athmosphere of this great place which now is past. And for sure every day, every night and every moment in the 'Backstage' will still be alive in my memory. THANKS to Katrin and the 'Backstage' crew and every guest for many crazy nights!

See you somewhere else...

The Little Helloweenie, Harald.